But he, desiring to justify himself, asked Jesus, "Who is my neighbor?"
–There's an affordable housing crisis, everywhere,0 but especially so in Rexburg.
–Idaho as a whole is short 58 affordable rental units for every 100 extremely low-income renter households (making 30% of median income).1
–Madison County's population was the fastest growing in the state, increasing by 41%, going from 37,536 in 2010 to 52,913 in 2020,2 and has historically had one of the highest rates of poverty in Idaho.3
In the last few years, married students have had a waiting list at rental places in town over 500 long, the rentals in St. Anthony and Rigby have been full and they've had to live and commute from Idaho Falls, about a 40-minute commute, no laughing matter with Rexburg winters. Some multi-family housing has gone up, but not enough; more affordable housing is needed, desperately.
Complicating matters, the BYUI stranglehold on approved single student housing has led to an overbuild of those units (with the three-semester track system, many contracts end up sitting empty almost 5 months of the year) leading to decreased profitability and owner/investor flight. Some responded less than helpfully, by taking their single student-approved housing (3 bed 2 bath apts) off the market and converting them to condos, beginning at $300,000 also advertising them to investors as short-term rentals.4 I don't know in what universe that would help create affordable housing? What student or newly graduated couple is going to be able to afford a $300,000 mortgage in this market? Currently, there are 12 townhomes in madison County for sale for under $250,000.
In today's market, my family of 6 would not be able to afford a home in Rexburg. We are in our forties and bought a home for $215,000 eight years ago when my husband moved here for a job. We have the smallest house in what was supposed to be built as a much fancier neighborhood. Our income is above twice the local median income of $33,000 and we *still* wouldn't be able to find a home in town. We are about a mile away from the Rexburg temple, and there is an empty field nearby that has remained undeveloped that came before the P&Z commission for approval to build a mix of starter homes and multi-family units. The problem? It's surrounded by McMansions with views of the temple, who apparently happen to be extreme NIMBYs (Not In My BackYard). These folks organized an opposition group, using the local church building to meet, and showed up standing room only for the planning and zoning meeting. My daughter had a wrestling match that night and I wasn't able to attend in person so I tried to watch the streaming video later.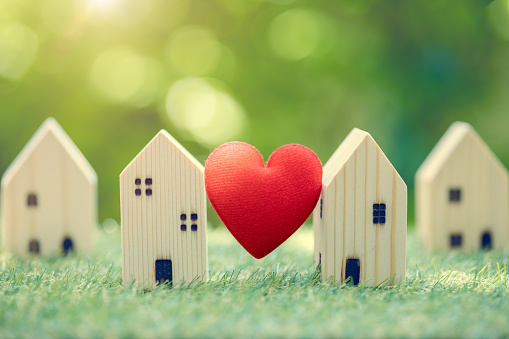 I say tried because I had to turn it off. I couldn't continue — watching it made me sick to my stomach. People were raising their voices about how a townhouse would ruin their view of the temple from their McMansion. After every one of my neighbors spoke about how this was the most awful thing that could happen to them and their property values and views — the crowd burst into applause and cheers. They even remarked excitedly about how it was like a revival. Many people repeated the use of the word "integrity" of their neighborhood as the reason why affordable housing should not be built anywhere near their own property. The proposed development would have a mix of starter homes, multifamily up to 13 units per acre, and green space. Maybe the thing that surprised me most is that even the folks who lived in smaller, older nearby homes joined the jeering crowd. 75 letters were submitted in opposition and 25 people spoke against it. The measure was defeated soundly.5
In retrospect I wish I could have attended and been the one local person to stand and say this:
Hi, My name is Kristine A and I am currently your neighbor. Our community has a need right now: it needs homes for families. Yes, some of these families will be BYUI students and will be in and out of some of these rentals. Some of them will be families who are moving into the community because of a job offer and can't find a home that they can afford. I grew up poor, and this is the type of project that my large family would have fit into. In addition, if my family were to move into Rexburg today we would be in the market for these townhomes and starter homes. We are the family that you wouldn't want living by you. We are the family that you have concerns about your kids having to grow up nearby, attending the same church and school. Everything you say about these prospective families you will be saying directly to me and my children. And yet somehow I am your neighbor now — am I just discovering how you feel about living near us?
This area of Rexburg has been in a socioeconomic bubble for too long. Our church boundaries have recently changed to include people of different socioeconomic backgrounds. This is an important challenge for us to love each other as ward families–as neighbors. Our ward communities have changed and, in my opinion, we've all been strengthened to have people who are different than us in our communities. Differences always provide opportunities for us to learn and grow and appreciate the strengths that others have and bring to the table. What does it say to (me and) the renters and the poor folks put in our wards that you're ok seeing them on Sunday, just not off of your back porch? Who is our neighbor? Who are we allowing to become our neighbors? Where would Jesus be living if he lived in Rexburg?
I am called by Jesus and scripture to love and serve my neighbor, liberate the captive and oppressed, house the homeless and visit the imprisoned. If I can do that by allowing them to build and live in brand new homes next to me, I will volunteer! I would love to create a more diverse community in this corner of Rexburg so that this view of our beautiful temple can be shared by all sorts of folks who also love living here.
Ok, so I'm not sure if I would have included that Jesus part. I will tell you I felt awful after watching that video of my neighbors. This was the fruit of the tree that we preach to each other every week and brag about us being the special, chosen people of the Lord?? How was *I* going to walk back into my church building now that I'd heard how everyone feels about people like me living by them?
I came to the conclusion that I walk back through those doors for the very same reason: I am called to love my neighbor and my enemy, even when parts of my neighbor are my enemy apparently. What am I called to do? What I am hoping and asking others to do: to love and serve and give regardless of background and political viewpoint and socioeconomic status — even if it comes at a cost.
May I always apply my own sermon to myself.