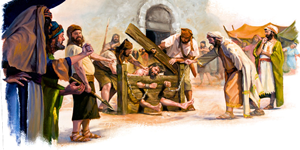 This post is dedicated to all those who feel compelled to speak out on issues which may be unpopular, or in difficult times. I enjoyed Brother Sky's recent post on empathy, and I think we might all in some degree feel empathy for Jeremiah's predicament.
Jeremiah felt compelled to speak out. He couldn't not speak. Yet what he had to say was not well received. He was put in the stocks and the people mocked him.
Composer Rosephanye Powell has created an incredible piece "The Cry of Jeremiah" using text inspired by Jeremiah chapter 20, which really captures the emotion. Each of the four movements is preceded by a narrator telling the story. Below I have linked the NY Premiere of the piece (2014), from a concert featuring the works of prominent African-American composers. The composer herself is a stunning narrator, and William Powell is the conductor. A review of the concert is available here, and the programme notes here. The piece was commissioned by the American Guild of Organists.
It's well worth taking 30 minutes to listen to the entire piece. Enjoy!
Have you ever felt like Jeremiah?
Does it help to think that those who disagree with you might also feel those same emotions?
Discuss.